Walk into any Best Buy and you will be inundated with laptops to purchase. They do have desktops for sale, but these are generally featured in a side aisle. So, which is the better one to buy? Well, that really depends on the user.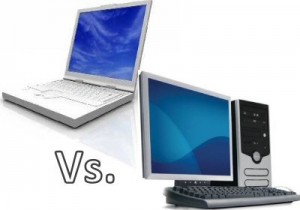 Laptops versus Desktops
Why laptops are better than desktops?
You should buy a laptop if:
You need to be able to compute on the go and a smartphone or tablet either isn't available or won't cut it
You want something small
You don't need a lot of processing power or hard drive space
You should buy a desktop if:
You rarely need a computer outside of the home
You are a heavy gamer
You need something less expensive
So, which one should I buy? Honestly, it doesn't matter that much. Some brands are better than others sure, but the bulk of them will do what a user needs. Check email? Any laptop or desktop can do that. Browse the web? Ditto. As for the rest, there are addons like Blu-ray players, larger hard drive, wireless networking. All of these are things that you must consider when purchasing either of these products.