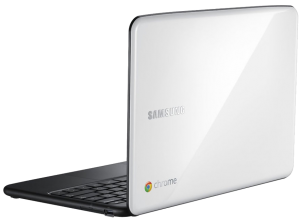 You may or may not have heard about the new chromebooks. Basically, these are laptops that only run Google Chrome, a web browser. You turn them on, and you are presented with a web browser and off you go. No programs to install, no antivirus to update (I worry about this). For a casual user, who only browses the web, this might be ideal. But know that if you need to do ANYTHING that isn't web based you'll be out of luck. Now that being said, there is a tremendous amount of things you can do. Google Docs for example lets you have a full office productivity suite for free. You can still print and watch YouTube videos, as well as play your silly Facebook game that you may or may not be ashamed to play (god knows I'm guilty). While you don't have to be connected to the internet all the time, there are limits to what you can do without an internet connection.
Pros:
Fast bootup
Automatic updating of applications
Simple to use
Cons:
Cannot install applications
Requires internet access for most functions
Can't edit photos without first uploading to another service and editing it on the web
Limited hard drive
Conclusion: If you are a casual user that never installs applications, you'll like the simplicity of a chromebook. But average users will be left wanting more. If it's a small light computer you are in the market for, consider a netbook instead.